Investor Profile: Evans Mulaudzi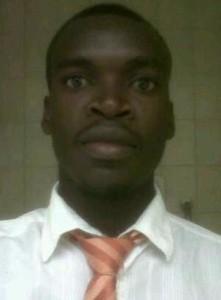 Meet Evans Mulaudzi, a 30-year-old construction worker who describes himself as an ambitious father of two. Evans studied financial management and is now looking to put the "little knowledge" he's gained through his studies to good use in his quest to achieve financial freedom.
In keeping with his mantra, "save first and spend the remainder", Evans would like to one day teach his son and daughter about the importance of saving early and knowing how to differentiate between their wants and needs. This, he hopes, will give them a solid financial foundation and firm understanding and respect for the value of money.
Evans, what led to your decision to become an investor and what would you say sparked your interest in the often tricky world of investing?
Having studied finance at college I developed a strong interest in financial matters and I started reading a lot of financial publications in order to enhance my knowledge and keep up with the changes that are happening in the financial world.
One thing that I have learned from my studies is that I need to save first and spend the remainder. The other thing I learned is to start saving as early as possible and save as much as I can possibly afford. I started working in 2013 and started saving in 2014. By starting early I should be able to see the difference that compound interest can have on one's portfolios.
You are using your tax-free investment to supplement your retirement savings; what was it about Old Mutual's Invest Tax Free Plan that made you feel it was the right one to help you realise your goal?
I wanted the benefits of a tax-free savings account and I didn't shop around because I wanted to start as early as possible. Old Mutual was doing a lot of advertising around the product at the time, which is why I chose them.
I have since done a lot of research and I've found that I can hold numerous tax-free investments. I am now also aware that tax-free savings accounts can invest in various asset classes, and that returns differ based on the underlying investment. Now that I'm aware of all of this, I will be shopping around a lot more for my next investment.
Opinions on the annual and lifetime restrictions imposed on tax-free investments vary considerably. Based on your personal experience, do you feel the current restrictions are reasonable or that they should be revised?
For a start I think they are not that bad, but I do feel they may need to be increased as time goes by, to encourage us to save more.
Lastly, saving and investing takes a lot of discipline. The temptation to spend is often far more appealing than the desire to save for a future that is often difficult to envision. What inspires you to keep at it and not lose track of your goals?
It is true, saving and investing is not easy at all, with all the temptation and consumer mentality that is forced down our throats every day, one gets tempted to live "la good life" and forget about the future. It takes a lot of sacrifice, discipline, dedication and, most of all, focus. You have to be goal driven and save for different types of goals. Once you have clearly defined your goals the only thing left is to start focusing and keep going.
One thing I've learned is that once you get started it becomes a lifestyle. As for me, I've set a goal that every year I must buy a savings or investment product as part of my New Year's resolution. I'm still on track, and  plan on diversifying and increasing my portfolios because saving is my only ticket out of poverty.