ETF weekly review – A closer look at the NewFunds NewSA ETF
Intellidex | 14 September 2017
Every week Intellidex reviews an ETF fund for EasyEquities. See previous reviews we've done here.
Social investing is gaining momentum globally as more and more people become conscious of "ethical" investing. Locally, we have two ETFs that follow an ethical/social theme and this week we look at one fund that is unique to SA, Absa's NewSA ETF.
Since 1994, the government has pursued various channels to address the financial imbalances created by Apartheid, with broad-based black economic empowerment (BBBEE) the cornerstone of its policy. It is aimed at boosting financial opportunities for historically disadvantaged groups and every company has a BBBEE "score" that measures such things as a company's black ownership, management control, skills development, enterprise and supplier development and socioeconomic development.
What it does: The NewSA ETF invests in the most empowered companies in the JSE's top 40 index. It tracks the price performance of the NewSA index, which is a modified FTSE/JSE Top 40 index that weights the top 40 JSE-listed companies in accordance to their empowerment ratings. These ratings are calculated according to the department of trade and industry's codes of good practice on BBBEE.
Performance review: The NewFunds NewSA fund has consistently underperformed the FTSE/JSE Top40 index. It lost 1.61% in the year to end-June, underperforming the top 40's positive return of 1.56%.

Outlook: One of the main attractions of this fund is that constituent companies tend to get preference when pitching for public contracts and these are usually big-expenditure items – for infrastructure development, for example. As long as the government and state-owned enterprises are investing to expand the economy, these businesses tend to benefit. However, with SA's economy performing poorly, most government institutions have cut spending and companies that depend on such spending have suffered.
Although its universe is the JSE's 40 biggest companies, the NewSA fund contains only 27 counters out of the top 40. Worth noting is the absence of Naspers, which constitutes a quarter of the value of traditional top 40 funds. This implies that there is a low correlation between NewSA fund and other top 40 funds, which makes it a good candidate for diversifying your portfolio. It also explains in part the underperformance, as Naspers has been a strong performer over the last several years.
Implementing an empowerment deal has cost implications for a company and usually results in diluting existing shares. However, since companies in this fund have high BBBEE ratings it means they have already incurred the bulk of these costs. So, buying in now means there is low risk of dilution in future as these companies are relatively more compliant.
Key facts:
Suitability: The NewSA ETF invests in companies with superior BBBEE ratings and is thus suitable for investors who feel morally impelled to invest to support transformation – or if you believe that companies with superior empowerment ratings have an economic edge. The fund selects the most empowered companies in the top 40 and you can cost-effectively gain exposure through a single transaction.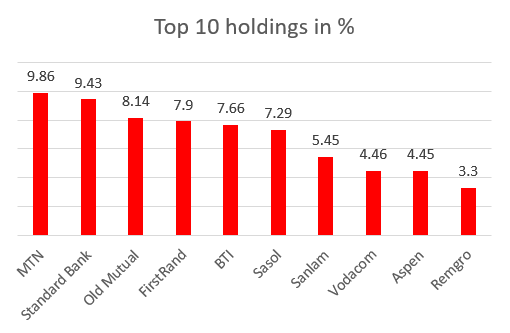 Top holdings: The top 10 assets account for 64% of the fund. However, the absence of Naspers is conspicuous given that it dominates most funds that use JSE's Top40 as their universe.
Risks: Implementing BBEE is not compulsory for businesses, but they will not be able to do business with the state if they are not adequately empowered. As a result, however, some sectors such as retail, which do not rely on government business, are under-represented.  Financial and mining companies and others that do business with the state tend to have high BBBEE ratings. The implication is that the performance of the fund's constituents is likely to be correlated, ie, they perform well or poorly at the same time.
Alternatives
There are no other funds that invest based on BBBEE measures. SA's other social investment fund is the NewFunds Shari'ah Top 40, which invests according to Islamic law principles. The CoreShares Green ETF, which invested in environmentally friendly companies, was delisted at the end of last month.
BACKGROUND: Exchange-traded funds (ETFs)
Exchange-traded funds (ETFs) are passively managed investment funds that track the performance of a basket of pre-determined assets. They are traded the same way as shares and the main difference is that whereas one share gives exposure to one company, an ETF gives exposure to numerous companies in a single transaction. ETFs can be traded through your broker in the same way as shares, say, on the EasyEquities platform. In addition, they qualify for the tax-free savings account, where both capital and income gains accumulate tax free.
Benefits of ETFs
Gain instant exposure to various underlying shares in one transaction
They diversify risk because a single ETF holds various shares
They are cost-effective
They are liquid – it is usually easy to find a buyer or seller and they trade just like shares
High transparency through daily published index constituents
Disclaimer
This research report was issued by Intellidex (Pty) Ltd. Intellidex aims to deliver impartial and objective assessments of securities, companies or other subjects. This document is issued for information purposes only and is not an offer to purchase or sell investments or related financial instruments. Individuals should undertake their own analysis and/or seek professional advice based on their specific needs before purchasing or selling investments. The information contained in this report is based on sources that Intellidex believes to be reliable, but Intellidex makes no representations or warranties regarding the completeness, accuracy or reliability of any information, facts, estimates, forecasts or opinions contained in this document. The information, opinions, estimates, assumptions, target prices and forecasts could change at any time without prior notice. Intellidex is under no obligation to inform any recipient of this document of any such changes. Intellidex, its directors, officers, staff, agents or associates shall have no liability for any loss or damage of any nature arising from the use of this document.
Remuneration
The opinions or recommendations contained in this report represent the true views of the analyst(s) responsible for preparing the report. The analyst's remuneration is not affected by the opinions or recommendations contained in this report, although his/her remuneration may be affected by the overall quality of their research, feedback from clients and the financial performance of Intellidex (Pty) Ltd. Intellidex staff may hold positions in financial instruments or derivatives thereof which are discussed in this document. Trades by staff are subject to Intellidex's code of conduct which can be obtained by emailing mail@intellidex.coza. Intellidex may also have, or be seeking to have, a consulting or other professional relationship with the companies mentioned in this report.
✖