Nedgroup Investments launches new low-cost Global investment fund
Press Release
26 January 2016: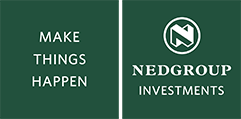 Nedgroup Investments has announced the launch of a new global investment fund – the Nedgroup Investments Core Global fund. The Nedgroup Investments Core Global Fund was launched on the back of the growing success of the Nedgroup Investments Core range which was implemented in 2009.
 According to Jannie Leach, Head of Core Investments at Nedgroup Investments, the new fund aims to provide investors with low cost exposure to a range of global asset classes. The fund will be managed by Nedgroup Investments Best of Breed™ partner, BlackRock Investment Management (UK).
 "The Nedgroup Investments Core Global Fund is a low-cost global balanced portfolio that is used for the offshore exposure within the Nedgroup Investments Core Diversified and Nedgroup Investments Core Guarded funds. It has been designed to provide sensible offshore exposure for a Regulation 28 compliant mandate and complements our existing Core range," says Leach.
 Over the past six years, the Nedgroup Investments Core Diversified and Nedgroup Investments Core Guarded funds have built up enviable track records and have been the two fastest growing rules-based portfolios  in the SA unit trust industry, taking over 70% of new net flows into multi-asset rules-based type portfolios over the past two years*.
 "This trend made the introduction of our new Core Global fund possible," says Leach.
 According to Leach, more and more South African Financial Advisors are incorporating lower cost multi-asset unit trusts into their clients' portfolios, which have up to now been dominated by actively managed unit trusts, as a tool to reduce overall costs without compromising on long-term investment outcomes.
 "A key feature of the growth of flows into the Core portfolios is their inherent low-cost structure. The annual management fee of the Core portfolio is 0.35% pa, which is significantly lower than any other global balanced fund currently available in the South African market.
 Furthermore, our research clearly shows that combining the Nedgroup Investments Core portfolios with a range of active portfolios can result in a material reduction in TER. In an environment of increasing cost pressure, it is easy to see the appeal of incorporating these funds into a broader investment strategy for both managers and investors," he says.
 Leach believes that traditional passive investing has evolved into what he refers to as rules-based investing. "As the number of alternative indices, quantitative investment and 'passive' strategies have grown, the distinction between active and passive investments has become less clear, so our view is that 'rules-based' investing is a more appropriate term for these investments. Rules-based balanced portfolios follow pre-defined rules that determine the asset allocation and underlying asset class and benchmark selection," he says.
"We are very excited about this addition to our Core range and the investment opportunity it offers our investors," says Leach.
 Ends
 About Jannie Leach: Head of Core Investments: Nedgroup Investments
Jannie joined Nedgroup Investments in 2008 as an Investment Analyst in the Best of Breed Team. During his time as an analyst he started developing the Core Range of low cost portfolios which were launched in September 2009. He currently drives the strategic development of the Core Range and is responsible for their "cost efficient" investment philosophy and process. He is actively involved in research on current topics in asset management and investment industry reforms and has become a highly respected commentator in the industry.